ASCA/UKC Ch. Mandolyns Shake and Jake CD, RN, RA, RS-N, JS-N, JS-N-OP, CGC, FD, FDX, FDCH, FDCH-S, FDCH-G, HCT-1 (AKC ptd/2 legs ASCA CD) DNA-VP

(AKC/ASCA Ch. Solitaire Ragtime Rendition NA, NAJ x Roanoak's Irish Crème CD, OA, OAJ, RS-O, GS-O, JS-O, STDdsc, DNA –VP)
Was bred to:

Crystal Peaks Lapis Lazuli RA CGC NAC NCC NJC TG-N TN-N GS-N JS-N

(Los Carneros Dr Phil x Crystal Peaks Lacy Citrine NA, NAJ, CGC, RA, EAC, ECC, OJC, TN-E, TG-E, RS-E, GS-E, JS-O, CL3-R, CL3-H, CL3-F, CL2-S)
Lapis and Jake created beautiful puppies together that were born on April 3 2007. Click group picture below for puppy pedigree.
Click picture for Puppy pedigree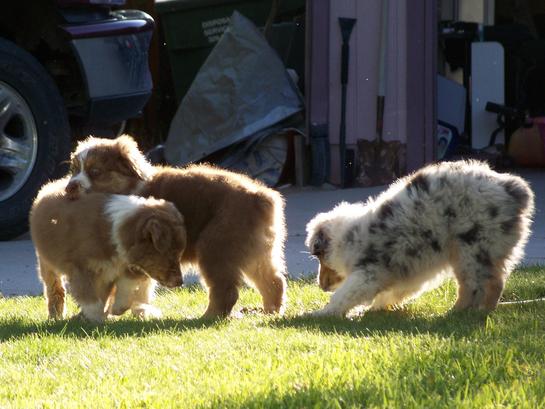 I can't believe that the puppies are eight weeks already. I have two more weeks with them and I am not looking forward to letting them go. They have been great puppies. Smart, easy, and loving. They went for their 8 week check up at the Vets and all were given a clean bill of health in addition to charming the office staff with their sweet loving natures and confidant unafraid demeanor. They just got back on Friday from the ophthomologist with a all clear exam there also. They continue to take everything in stride and are eating just about everything put in front of them. They are eating a wide variety of Raw meaty bones and loving every second.
Click here to visit the week 6 puppy page.
Click here to visit the week 5 puppy page.
Click here to see week four picture page
To visit the Week three puppy page click here.
Red Merle boy Skittles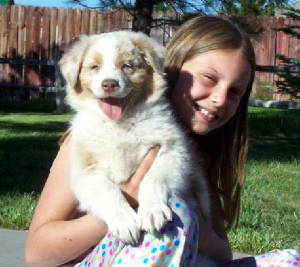 Staying here with us at Crystal Peak