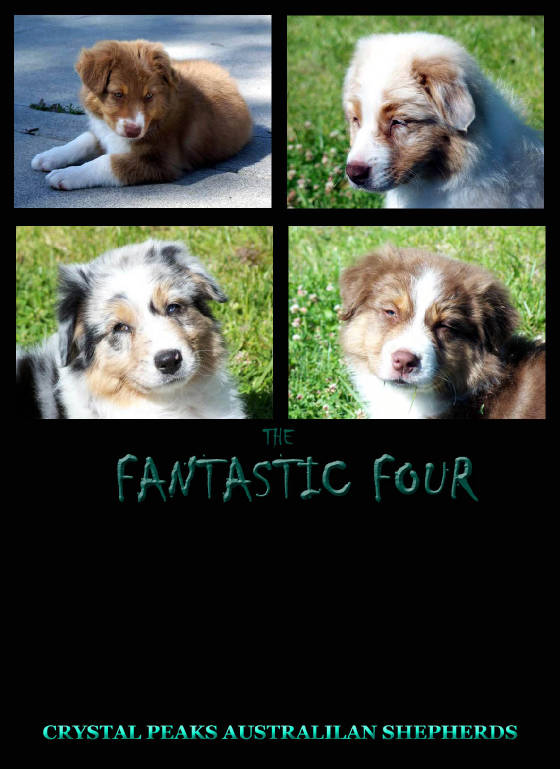 ASCA/UKC Ch. Mandolyns Shake and Jake CD, RN, RA, RS-N, JS-N, JS-N-OP, CGC, FD, FDX, FDCH, FDCH-S, FDCH-G, HCT-1 (AKC ptd/2 legs ASCA CD) DNA-VP

(AKC/ASCA Ch. Solitaire Ragtime Rendition NA, NAJ x Roanoak's Irish Crème CD, OA, OAJ, RS-O, GS-O, JS-O, STDdsc, DNA –VP)
Was bred to:

Crystal Peaks Lapis Lazuli RA CGC NAC NCC NJC TG-N TN-N GS-N JS-N

(Los Carneros Dr Phil x Crystal Peaks Lacy Citrine NA, NAJ, CGC, RA, EAC, ECC, OJC, TN-E, TG-E, RS-E, GS-E, JS-O, CL3-R, CL3-H, CL3-F, CL2-S)
Lapis and Jake created beautiful puppies together that were born on April 3 2007. Click group picture below for puppy pedigree.
It is almost time for them to start the second chapter in their lives. They will be going home this week and I hope that the start I have given them will be evident in their adult personalities. They are happy confident puppies that fear nothing and love everybody. They ride in the car well, have been exposed to walking on a leash and harness and have started their crate training. Time soon to say goodbye to all but Skittles who will be staying here with us. I hope you have enjoyed seeing them grow up as much as I have. Katrina
Click here to visit the 8 week puppy page
Click here to visit the week 6 puppy page.
Click here to visit the week 5 puppy page.
Click here to see week four picture page
To visit the Week three puppy page click here.
Red Merle boy Skittles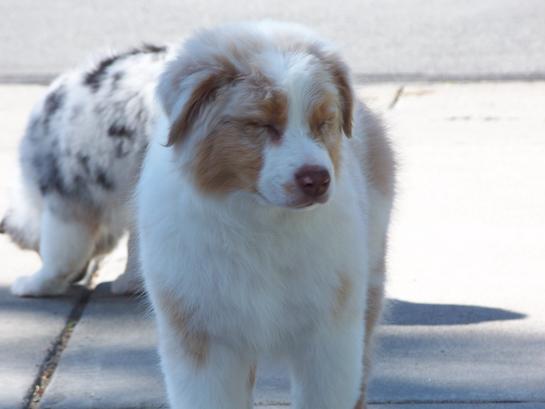 Staying here with us at Crystal Peak