Ruby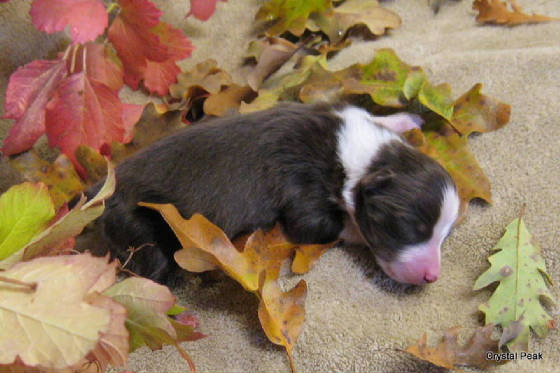 Ruby arrived on Oct 15 2010 at 3 in the morning a mere 5.4 oz. out of Lapis and Reed (info below). She was a little early and the first week was a battle for her life. Continue reading for her story as well as to see her growing up.
Crystal Peaks Lapis Lazuli

OA OAJ OF RA CGC TT OAC NCC OJC TG-E TN-O GS-O JS-0 RS-N

July 29, 2004

OFA Hips / Elbows : Excellent/ Normal AS-22772E28F-PI, AS-EL2292F28-PI

CERF: Clear/Normal January 2007

(Click above link to view pedigree information
ASCA/UKC CH Rip Roarin' Red Skyz @ Nite Lyonsbrk

DNA-VP

ASCA - STDs CD JS-O

AKC - PT CD RN CGC DNA Profiled Major Pointed (13 Total Points)

AHBA - JHDs

(AKA AKC: Rip Roarin' Red Skyz At Nite Lyonsbrook)


Male Red C/W COI: 9.43% DOB: 7/3/2005

ASCA Reg# E141897 AKC Reg# DN11401503 DOB:7/3/2005

Hips: AS-23670G24M-PI Elbows: AS-EL2692M24-PI Patellas: AS-PA233/24M/P-PI

CERF Clear 07,08,09 AS-8352 CHIC# 41546

ASCA Awards:

High Combined Started Dog - Independence Day trial 2007

Best In Show Brace -ASCA Nationals Las Vegas 2008

AKC:

Multiple Best In Show Brace Wins During 2008 & 2009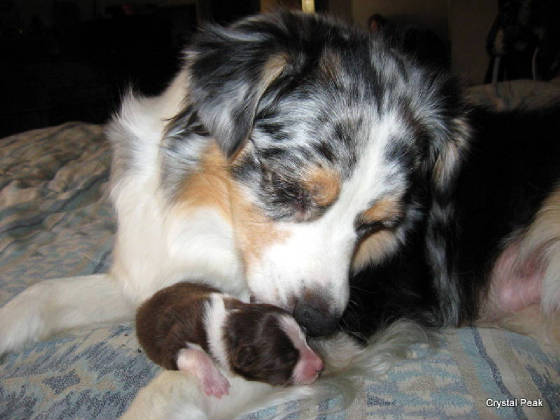 Lapis was due at the earliest on Sunday Oct 17 from
her first breeding. Thurs Oct 14 I woke up to Lapis extremely painful acting. She was moving very slowly and carefully, not raising her head above her shoulders, eye matted with gunk, back all roachy and she had a slight dark bloody vaginal discharge. Took her into vet where bloodwork was normal, and an ultrasound showed a single pup with a heart rate. Lapis exhibited pain on movement of neck but temperature was normal. Rest was the only recomendation.
Forward to Thurs night about midnight hubby gets up to go to the bathroom and bathroom floor was wet. Lapis was panting and in labor so I went out into the living room and put down my puppy pads on the couch and we both settled in while I read. Welping box was not yet set up. 3:15 out slides
a pretty dark red tri female that was tiny. I waited to see if we would have more but no such luck. Little girl was 5.5 oz and really struggling to stay warm. The spots where the white trim was at was sparsely covered in hair but was mostly bright red or purple in color.
She was not that early in terms of gestational age but due to poor placental attachement or something she was premature in developement. Normal size aussie puppies range from 10 oz- to a pound and she was half that. In addition she had little to no rooting or sucking reflex so I could not get her to nurse on her own and even with assistance she only nursed a brief minute or so. The first day I could not get her warm, she was having a real problem regulating temperature. I Got the welping box set up, a heater on in the laundry room and
finally got her warm late that night. I hand milked mom and fed her colostrum by syringe and started homeopathic fading puppy drops.

Day two no nursing witnessed on her own. More assisted nursing sessions but puppy was visibly gaunt and not plumping up like I am used to seeing but she was staying
warm. I went to town and got milk replacement, tube feeding supplys, a more accurate scale, and pet nutridrops from a good friend of mine. I started tube feeding and taking weights in grams that evening. Her weight is 151 grams to start. I tube fed her every three hours but she was not able to take more than 4 mls at a time when she needed to be taking in about 5-6 mls. Her weight very slightly starting to climb.
Day three starting to come around. Nursing better and longer but still needed assistance in latching on. Doing some rooting and some kneeding behavior. I was hand milking Lapis out every couple hours to feed the puppy and to keep milk supply up.
Umbilical cord softened and came off leaving a strange kind of shallow crater with a cream colored interior. Slightly concerned over the appearance but not much. By 9 that evening she was refusing to nurse at all and I was not getting much into her by tube feeding. I then started the fading
puppy drops again. She was crying a lot, moving about the box and in general uncomfortable looking.
Day four all hell breaks out. There was several times that I thought I was going to lose her but she kept fighting. That morning she was a crying, screaming wreck with her belly bloated and a deep dark red color. Her umbilical area was stinky and black around the edges of the crater. She would not nurse, and I could not tube feed her without it
coming back up. Lapis was a wreck also and very agitated and concerned.
I headed into town for my mom to do some energy work on her (t-touch and reiki). By the time I got there she was limp and barely responsive. Started her once again on the fading puppy drops a homeopathic mixture every 30 minutes and called the vet. Unfortunately she would not be able to take her for 3 hours.
Once again the friend that supplies the tube feeding supplies came through for me. I took her to her house and started her on sub cutaneous fluids. She took in about 15 cc during the next two hours absorbing 3 cc every 15 minutes. I was definately dealing with dehydration. I stopped any attempt to feed her to give that bloated uncomfortable tummy a rest. I also gave her benebac (a beneficial bacteria mixture for the
gut) dissolved in a little water by syringe every 30 minutes.
She was more content, less agitated, and stronger by the time we got to the vet.
Vet's major concern was the necrosis starting around the umbilical site and extending in a knot into the abdomen. We had an umbilical infection setting in. She would normally have done a local and excised out the necrosis but she was to weak for that. I was told if the infection went deeper and entered the peritoneum there was nothing more we could do for her.
We were both concerned that she probably had not gotten enough colostrum in those first 12 hours and was so
cool for the first 24 hours that she may not have absorbed anything that I had given. This compromises their developing immune systen and does not give her any defense to fight off infection. The vet drew a few CC's of blood from Lapis and spun it down and gave Ruby a transfusion of the
plasma. This should help with the antibody issue and help her fight off the infection. We also started her on antibiotics.
I fed her for the first time in about 7 hours. I also made a compress with fresh aloe held onto the umbilical site with wt wrap. Aloe is a great drawing agent and I hoped to draw the infection out to the outside instead of continuing inward. Placed her back in her little box I heated with hot water bottles and a heated rice bag. She was sleeping well in the box and was content. Lapis however was not thrilled with continueing to be separtated from her baby.
I continued with the every two hour feedings and at 2 am she woke up hungry, rooting around and noisy. Got a combined feeding of nursing (yay even if only for 5-10 minutes) and tubing. Two hours later she was snoozing comfortably but I woke her up to give some benebac dissolved in LRS by dropper and tried to have her nurse and bottle feed. I was not very successful but a little from both. I took her body wrap off and put triple antibiotic ointment on belly. Put her to bed after giving her 5 mls LRS sub Q. The rest of the night I continued the alternating process of tubing, and sub Q fluids and aloe compress and triple antibiotic ointment every two hours.
Day 5 This morning tummy is a normal color although still bloated, the smell is greatly decreased, and Ruby is a quiet content puppy doing her little puppy twitches while sleeping. Her weight is up to 215 grams from 170 grams yesterday. Cautiously optimistic for a turn for the better. Mid day I got poo lots of poo when cleaning her up under some warm running
water. I was never so glad to see it. That means the digestive system is now working and bloated belly is now down almost to normal. Quiet happy pup. No screaming just some minor talking. She is starting to look like a normal puppy with a well rounded out appearance and not able to see every
bone. I have decided that I am not going to dock her tail or cut off her dewclaws. I do not want to stress her right now and we are getting too late in the game.
Still a very intense day of every two hour assisted nursing/feedings. I continued with the sub Q fluids and the tube feedings every 4 hours. 8:00 that night I finally have sucess with her finding the nipple on her own and latching on.
Day 6 starting to see more progress. She is at 220 grams in the morning so not much of a weight gain but is visibly stronger and nursing more vigorously and for longer periods of time. I cut back the Sub Q fluids to just a few times and stop tube feeding for the most part. Still assisting every two hours with nursing. I am weighing before and after each nursing session to evaluate her actual intake. A gain of 1 gram is roughly equivalent to 1ml. She needs to take in 1 ml for every oz she weights every 2-3 hours. Every four hours I offer a bottle to top her off. Nursing is hard work and she can get more from the bottle than from Lapis easier. I decide to get pictures. I can't wait until one week.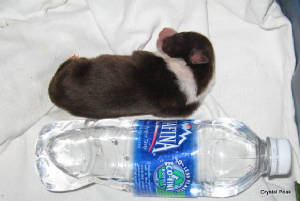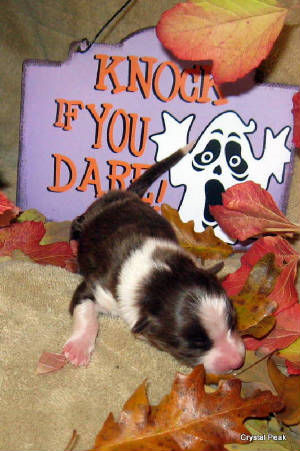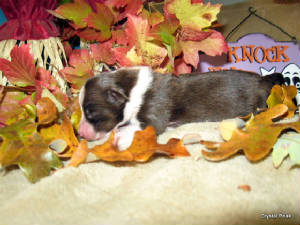 Day 7: She went to bed 8.6 oz and wakes up 10oz. I think she must have sucked all night. She has finally got the hang of rooting around and finding the nipple on her own and latching on without assistance. I stop all supplementation and place her back in the welping box full time. I just make sure that Lapis goes in to feed every 3-4 hours. Lapis is very bonded to me and would rather I stay and supervise all feeding but now that they are lasting 15 minutes or longer I do not want to sit in the welping box for that. I bring Ruby in and let Lapis nurse her on the bed while I am on the computer. Hey it is only one.
Day 8 she is doing great. I got a full nights sleep and all is right in the world. I get some lovely mom and baby pictures of them together on the bed.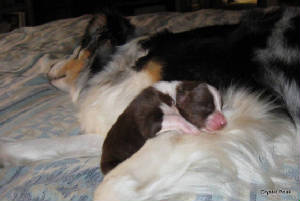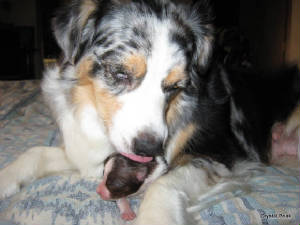 Lacy has gotten totally involved with being Grandma. Lapis and Lacy three years ago co-raised their litters together. Lacy is very disapointed there is not more than one to share. She makes sure that Lapis shares anyway. If Lapis is in the welping box then she stays away but when Lapis is not then she goes in to supervise, do housekeeping duties, and even tries to feed her. Day 10 is my first day back to work. I work a short day and on the way home pick up lots of new toys for Ruby to have littermate stuffies. Lapis and Ruby were separated from the others while I was gone and she could hardly wait until she could get in there to make sure all was ok. Ruby is up to 14 oz and getting roly poly.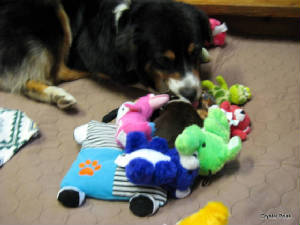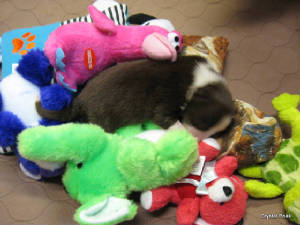 Stay tuned for further updates and pictures.