A silly Lapis picture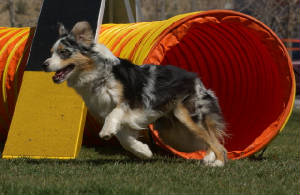 Here at Crystal Peak Aussies we actively compete with our dogs at least a couple of times a month in various venues. Here is where you can see what we are doing and how we have done. I will also add more great current pictures that we obtain. Enjoy.
Click here to read about the news from 2007.
The crew at an agility trial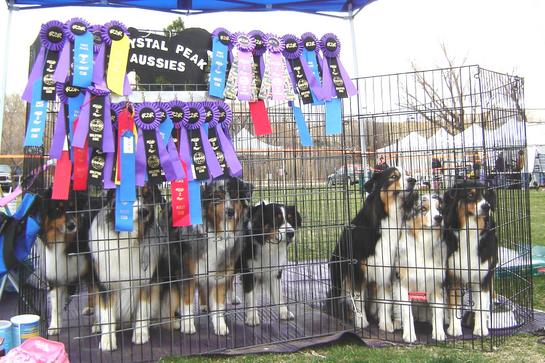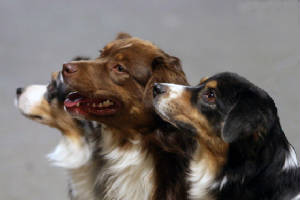 Nov ASCA Nationals in Las Vegas Nevada. I made the trek down to Vegas with a friend named Melissa and her Lacy puppy Flash. I took moms boy Chief, Lacy, Lapis, Aura, and Rockstar. The dogs were very selectively entered due to financial constraints. Aura competed in one pre-show in conformation for the first time in the big girl classes of Open Blue. It was a huge class and Kelsey was the only youngster out there. They did an admirable job but we do have a few things to work on before next year. She also ran in stock for the first time but the stock were hard and she was not quite ready so we did not do well in that respect. She had a very nice versatility score of 89 out of 90 on her conformation evaluation. She also did well in agility getting her novice jumpers title with two beautiful runs, and one standard qualifying score. Great for a baby dog of 18 months.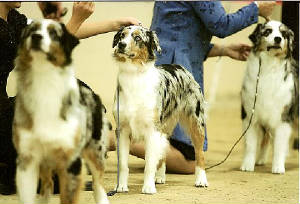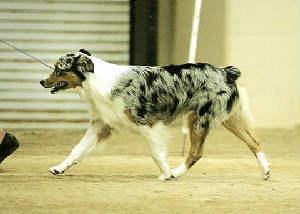 Rockstar had to put up with the whole ten days for a few minutes in the conformation ring with Kelsey at the lead as I was busy with agility. They make a pretty pair don't they?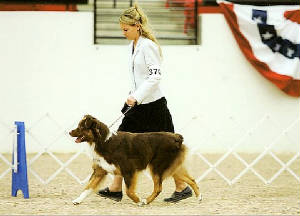 Lacy only came for two runs of jumpers and two runs in gamblers. She had one nice jumpers run that made time in Elite but knocked a bar. She was still sore from the jammed toe she did to herself right before we left so she was not up to speed.
Lapis also only came for agility and she did a mighty nice job of it. She even placed with a third in one of her novice gamblers runs in a class of over 40. She qualified in her other gamblers class as well finishing up her novice title. She had a nice run in open jumpers with a sixth place Q. She had one qualifier in standard as well. Lapis was also the designated dog for Kelsey to use in Juniors at nationals. Out of the competitive open junior group Kelsey placed sixth with naked little Lapis.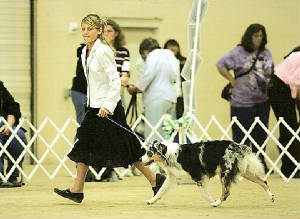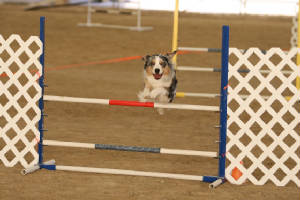 The story would not be complete without Chief's story. The first thing we did was compete in a pre novice obedience class at one of the pre shows. He was lagging pretty badly on the heeling and I was not sure how we would do at Nationals. Melissa helped me work with him and the two novices entered the Novice A class on Monday where I was scared to death. What do you know but we Qualified WOOHOO. His first leg towards his ASCA CD. Well that helped us to connect and we even got through a whole started duck course. Not enough to qualify but hey we did it. Next came agility and he gave me his all. He got two Q's in Open Jumpers to finish his title one with a fourth place. He came so close to qualifying in his elite standard classes but handling error held him back. He ran so well and I was so proud of him trying so hard for me.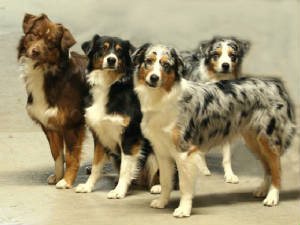 October NADAC games trial. First trial ever for Skittles. I only entered him in a couple of runs each day to see how he did. His very first run he qualified in tunnelers and then he stressed some and slowed down and although running perfectly clean he did not make time on his other runs. Aura got her first Touch N Go qualifying run and two qualifying runs in tunnelers. Lapis ran for the first time in Elite and missed out on some Q's by tenths and hundredths of a second mostly due to handling error. We will have to clean things up a tad. She did get one elite tunnelers Q and one elite touch N Go Q to finish her first Elite title. She was running very well. That ends the season for us.
October Truckee Meadows Dog training club AKC trial. Bobby Sue, Chief and Hemi ran for Sherry. Bobby Sue had not
ran in a trial or trained in several months but she had some nice runs and finished her Novice Fast title. Hemi did well also and had two clean runs in Novice Jumpers with Weaves to finish that title, and picked up another qualifying fun in novice Fast. He only needs one more to finish his title in that. Chief had some off runs do to Mom having a migrane but he did pull off a nice open standard Q.

I ran Lacy, Lapis and Aura. Lacy ran for the first time in all Excellent and had some stunning runs the first day getting her first double Q in Excellent with one first place and one second place. She also got a first place in open Fast. She held it together the second day to finish her excellent jumpers with weaves title but was sore and lost focus on her other runs of the weekend. This may be her last trial. She keeps re injuring that shoulder every time she trials.
Lapis was a good girl and had some nice runs with some mistakes so she only qualified in open fast, and open standard. Aura had some very nice runs for her second trial ever. She had a small problem jumping 20" for the first time and doing the triple for the first time. She knocked the triple both runs the first day but did better the second day. She qualified in both of her runs on Sunday.
September 20, 2008. One of the clubs that I belong do put on a temperament test today along with their CGC test. Aura was not old enough for the temperament test so she took the CGC test and passed with flying colors. We brought along Lacy, Lapis, and Chief for the temperament test. All three dogs did very well and passed easily.
For a detailed explanation of how a temperament test is performed and how the dogs did on different aspects of the test please click here.
August 16 and 17: CPE agility trial in Carson City ,Nevada

Agility debut for two new Crystal Peak agility dogs: Aura and Dixie. This was the second agility trial but the first CPE trial for Heme. It was also the first CPE trial for experienced dogs Lapis and Chief who started out in level 3. It was an absolutely fantastic weekend for all of the dogs but in particular Aura and Dixie. Below are the highlights along with pictures.
It was the first trial for Crystal Peaks Aqua Aura (above)and she did a mighty fine job at the tender age of 16 months. She qualified in 7 out of ten runs and finished three titles. The titles she earned were CL1-F, CL1-H, CL1-R under judge Ken Perlemutter.
Cateras Dance Hall Dixie also had an incredible debut in the agility ring at the tender age of barely 15 months. She qualified in 6 out of ten runs and finished 2 titles CL1-F, and CL1-H. This is going to be one fast, focused, and driven little girl.
Crystal Peaks Hemetite had his second trial ever this weekend. He was a bit distracted by his hormones due to a girl being in season at home but managed to pull it together for several runs. He got 4 out of 10 qualifying runs and earned his first title of CL1-F.
The oh so talented Crystal Peaks Lapis Lazuli continued her success in the agility ring for the first time competing at level three in CPE. She pulled off some stunningly beautiful runs to earn 6 qualifying scores out of 10. Two standard, 1 snooker, 1 gorgeous jumpers, 1 colors, and 1 fullhouse with mostly first places.
Bright Eyes Many Feathers call name of Chief was not to be outdone by the others. After a disappointing Sat due to unfortunate small mistakes Chief pulled out all the stops for some beautiful runs on Sunday. He ended the weekend with 4 qualifying scores at level three. One Standard, one Snooker, one Jackpot, and one full house.
Some of the Idaho crew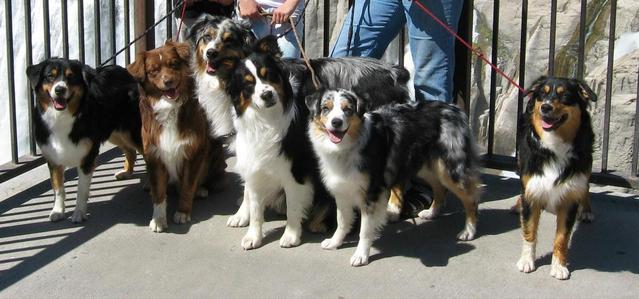 Lacy,Rockstar,Chief, Heme, Lapis, Topaz
June 2008 Idaho Circuit. The Crystal Peak crew went on a grand adventure. We had recently obtained a new dog show mobile for getting all of the dogs, and their gear to Dog events as we had outgrown my Expedition. We welcomed a used low mileage 24' Class A motorhome into our lives. Its first major trip in its life entailed going up to Idaho filled to capacity with ten dogs, two children and two adults for a ten day marathon of shows and agility trials. We started out with 5 ASCA conformation shows in Boise, Idaho. Lacy showed amazingly well but alas there were better dogs there competing this time. This was the first time away for the young ones and the second time in the show ring. Rockstar held it together and showed very well every time. He won his class of 4-5 dogs in his age group of 6-9 months a couple of times. Dixie with her impressive self stacking and animated expression won her class sometimes and other times quiet Aura with her flowing movement won it. Jazz unfortunately had a bad experience with hand sanitizer on a judges hands during the mouth exam and became nervous of the judges going over her. Many of the judges were very kind and by the end of the weekend she was getting better. More work on that end to come.
We then went to Filer, Idaho for a freezing two days of AKC conformation. Lacy won her competitive bred by exhibitors class once and showed very well. After this we went up to Blackfoot, Idaho for four more days of conformation and four days of agility trials where we finally redeemed ourselves in performance at least. Lacy finished up her open Standard title and her novice Fast title. Lapis finished all of her novice titles and obtained a couple of qualifying runs in open fast and jumpers with weaves. Chief finished all of his novice titles also and got a Q in open fast. This was the agility debut of my moms boy Heme who qualified once in each of the classes. Several of the obstacles he had not seen and he was distracted by all of the people. We had fun but it was a lot of work. Never again will we take so many dogs for such a long time and attempt to do so much. Long long days of Go GO GO!!!!!!
Lapis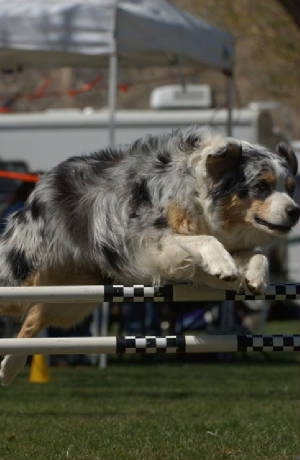 Lacy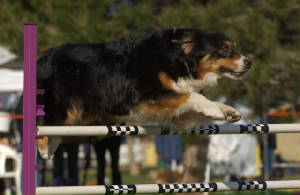 April-May 2008. First NADAC agility trials of the season. Lapis has a great return the agility ring and finishes up several titles. She now has almost all of her open titles in NADAC. She lacks only one more qualifying score for her open Chance title. She competed for the first time in Elite during a couple of the classes and garnered two qualifying scores in elite Touch N Go and tunnelers. Not bad for a three year old girl with very few trials under her belt. She is a joy to run. Lacy unfortunately has been bothered by a lingering shoulder soreness that keeps her from running at the speed she is capable of. She had multiple clean runs just a shade over time. After the AKC trial next month she will be rested the remainder of the year. Hopefully with a long rest she will be able to come back next year and compete as a veteran limitedly.

Lapis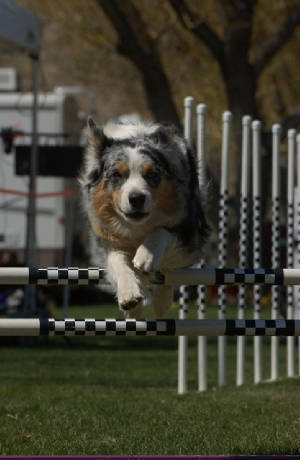 Lacy