10/20/07-10/21/07 Ready 2 Run Agility CLub NADAC Agility trial. Lapis continues her nice work from the previous weekend this time trialing for the first time in all open. She finished her Open Touch N GO title, and her Open Jumpers title, and received her second open tunnelers Q, and her first open chances Q. Chief ran very well and listened very well but with no room for error at the Elite level just got 2 Q's for the weekend. His first Elite Chances Q on a very tough chances run and his last open Touch N Go to finish his open title. Boby Sue ran for the first time since spring with Kelsey at the Elite level and came very close to qualifying several times. They missed out due to time on several runs. Better luck with the Crystal Peak Crew next year. This was our last trial of the season.
10/13/07-10/14/07 Truckee Meadows Dog Training Club AKC agility trial. This is Lapis's first agility trial since October of last year and her first AKC trial. Coming back from her spring litter of puppies and with little practice she blows me away. She gets the first two legs in Novice Jumpers with weaves with 2 first places and one qualifier in Novice Standard with a second place, and a second place qualifing fun in novice Fast. Not to shabby at all. Bobby Sue gets her First Excellent Standard qualifier with a 1 st place and another open jumpers with weaves Q, and a Novice fast Q. Chief was the other dog that competed that weekend and he did great getting a Novice standard Q and a novice Jumpers with weaves Q. I guess we better do more AKC and finish off those titles.
9/29/2007 Bonanza Kennel Club show in Carson City. Kelsey and Lapis finish their final win in novice juniors and move up to open juniors where they find they need a lot more practice to be competive. Chief gets his first qualifying leg in Excellent Rally.
09/20/2007 Lacy had her puppies and gifted us with four boys and three girls. The new family will keep me busy the next several months.
7/20/07 Lacy made the long trip to Florida to visit a debonair Red tri male for a week long tryst. CH Crystal Peaks Lacy Citrine NA, OAJ, CGC, RA, EAC, ECC, OJC, TN-E, TG-E, WV-N, RS-E, GS-E, JS-O, CL3-R, CL3-H, CL3-F, CL2-S meets the talented ASCA/UKC Ch. Mandolyns Shake and Jake CD, RN, RA, RS-N, JS-N, JS-N-OP, CGC, FD, FDX, FDCH, FDCH-S, FDCH-G, HCT-1 (AKC major ptd/2 legs ASCA CD) DNA-VP. This is a very exciting cross that should have some versatile, talented and beautiful black and red tri's. The litter will be due around September 20'th.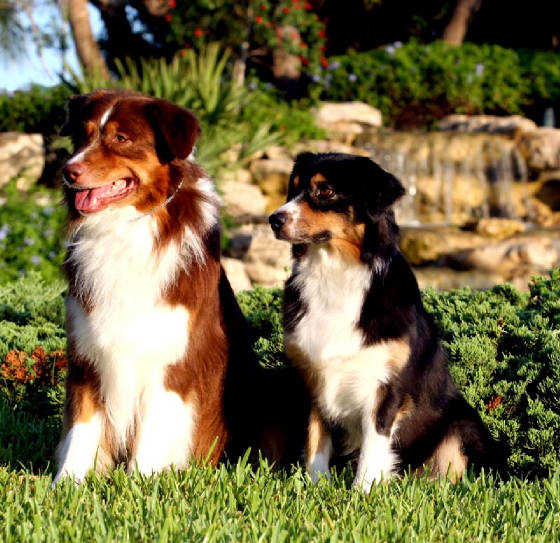 7/7/07 Bonanza Kennel Club Sanction B conformation match. Aura and Skittles debut in the show ring. Kelsey handled her new girl Aura with skill and garnered a Best of Breed puppy win over 6 puppies, and Skittles won Best opposite sex. Kelsey and Aura then proceeded to win best in the herding group puppy. In the best in show ring she was pulled up after the puppy that went best in show puppy. Not bad for a 14 week puppy and a ten year old girl the first time in the show ring together. Below is a great movement shot of the lovely Crystal Peaks Aqua Aura.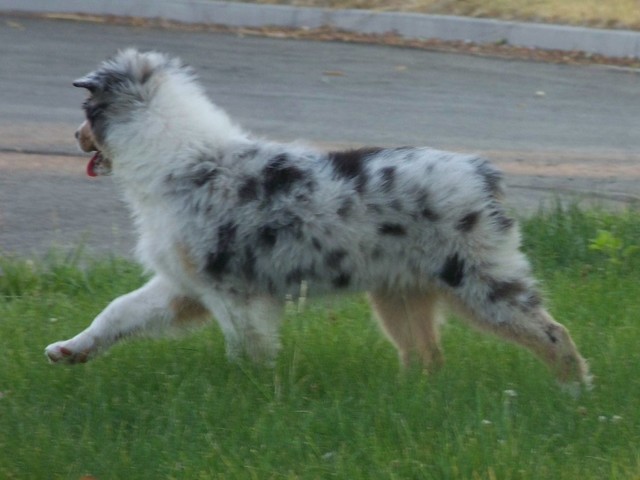 6/16/07-6/17/07 Truckee Meadows AKC agility trial.
Dazzle was unable to compete due to being in season and recently bred. She will be out for the rest of the season most likely with pregnancy and puppies. I decided to hold off on bringing Lapis back out to give her more time to get back into shape after her puppies. Lacy competed successfully in open to accomplish her open jumpers with weaves title with a first place and second place score. We were not as successful in the standard ring where she had a lovely run the second day but went by the panel jump and we continued on. She did get her first Novice fast leg the first time we had competed in it.
Chief started over in AKC at the standard rather than the preferred class. He did well over the weekend qualifying in Standard, Jumpers with weaves and Fast on Saturday and not getting anything on Sunday due to some minor errors. Bobby Sue did very well and finished her open Standard title prefered and ran for the first time in excellent on Sunday where she missed a contact. She also got a fast qualifying leg and one jumpers with weaves leg in open. Overall not a bad weekend for team Crystal Peak.
6/2/07-6/3/07 Reno Kennel Club AKC all breed show. Justus goes reserve winners dog on Sunday shown by a junior handler. Dazzle decide to blow her coat two days before and was looking straggly but showed very well. Lacy was having nothing to do with the show ring and never showed her best for me. Kelsey and Lacy did do well in the junior ring garnering their second first place win in Novice juniors over 4 others talented juniors.
5/25/07-5/28/07 I took Lacy and Justus up to the UKC shows up near Salt Lake City, Utah. This was Justus's second time in the show ring and the handling classes that his co-owner Vern has completed really payed off. Here at Crystal Peak we are very excited to announce our first Champions. Both Lacy and Justus finished their UKC championship. Lacy won best female in three out of the six shows, one best of breed and one group one. Justus won 6 best males, 5 best of winners, 5 best of breeds and 5 group ones. He showed extremely well with great enthusiasm and a winning expression. I think I have a show dog. I will add pictures to the site when they are recieved.
5/5/07 and 5/6/07 First agility trial of the year for team Crystal Peak. Most of our competion dogs are now recently competing in mostly Elite where the times are tough and there is no room for error. We were able to obtain some Q's to finish up some straggling titles but overall did not do great this weekend. Minor baubles/ handling errors prevented us from qualifying but the dogs really actually ran pretty well. Some fine tuning and we will do better next time. Below are the dogs that competed and their individual results along with some great new pictures. Thank you Anne Clayton Photagraphy for the wonderful pictures.
Team Bobby Sue and ten year old Junior handler Kelsey had their second time out as an Elite team . Bobby Sue was sick with a virus most of last week so was not really up to par. They did have some very beautiful runs must missed out on qualifying because of time. They are still getting used to the harder courses and more distance. I have no doubt this talented team will do better next time. They are a memorable team to watch.
Chief with Handler Sherry made their second weekend in the elite ring a learning experience. Chief did finish up his Open Jumpers title with a first place run and his novice weavers title to finish his novice versatility award. More distance, harder courses and tighter time frames had him barely missing out of qualifying in the elite standard runs. He got his first qualifying run in Elite Tunnelers though. With more fine tuning they will be winning in no time.
Dazzle and Sherry went out there and got things done this weekend. Even if they did not have many Qualifying scores they ran very nice as a team. Dazzle has had some problems with ring stress and most of Saturday she did not "check out" at all. This really became obvious whan they ran in the Chance class. Dazzle has had some problems working at a distance and although in Elite everything else she only had a single open Chance qualifier. She got the other two this weekend and worked really well. She showed the speed we normally have in practice that will enable her to do well in Elite this summer.
Lacy and I ran very well together this weekend. She worked great and was accurate as always. To be really competive in Elite jumpers we just need a bit more speed. We had tight efficient runs a shade over time (less than a second) in Jumpers. Weave poles from a distance were prevalent in most of the distance tests and she shined in this previous difficult task. She did manage to finish her novice weavers title with a first place run and hence her novice versatility award. She also qualified in her first run of the new class hoopers.
This was Justus's first agility trial. Justus does not live with me so this always makes it harder to get the bond needed to work in agility. He was not quite ready but we decided to see where he was at. He showed plenty of speed, wanted to stay with me, and was very responsive but lacked some obstacle focus. He had a very nice run in Touch N Go but got distracted at a smelly spot. He remains a joy to work with.